Description
Alpine's specially designed Perfect Fit Solution delivers a remarkable 9" navigation system suitable for the Toyota LandCruiser 200 Series (GXL and Altitude). Created for the 4WD enthusiast, the Alpine premium navigation system brings you high-resolution maps with live traffic updates, 3D landmarks, fixed speed and red light camera alerts, plus 4WD off-road tracks and an enhanced POI database. 
This amazing infotainment system provides a stylish and superior upgrade, delivering a multitude of entertainment features such as Apple CarPlay, Android Auto, DAB+ Digital Radio, USB video and audio, HDMI connection and much more.

Premium Built-In Navigation
Navigation has never been easier with the advanced Primo 3.0 platform. This provides an intuitive driving experience with 3D landmarks, 3D cityscapes, high resolution maps, lane guidance and safety camera and speed zone alerts. Avoid accidents and congestion with HereTM live traffic that can automatically reroute you around hazards and blocked roads. GPS reception is received with pinpoint accuracy with the GPS and Glonass dead-reckoning system. Whilst 3 years of free map updates ensure your navigation system is up to date.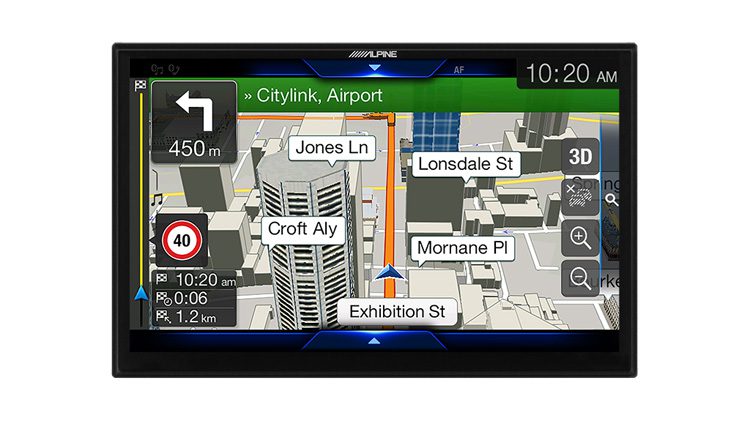 Alpine 4WD Off-Road Maps
Alpine's 4WD mode lets you explore thousands of Australia's most popular tracks. Experience full guidance with a detailed 3D digital terrain and convenient turn-by-turn navigation so you can adventure off-road with ease
Caravan and Camping Sites
The Alpine navigation system includes a comprehensive caravan and campsite database, allowing you to navigate to your favourite camp ground or utilise the points of interest function to find a new one nearby.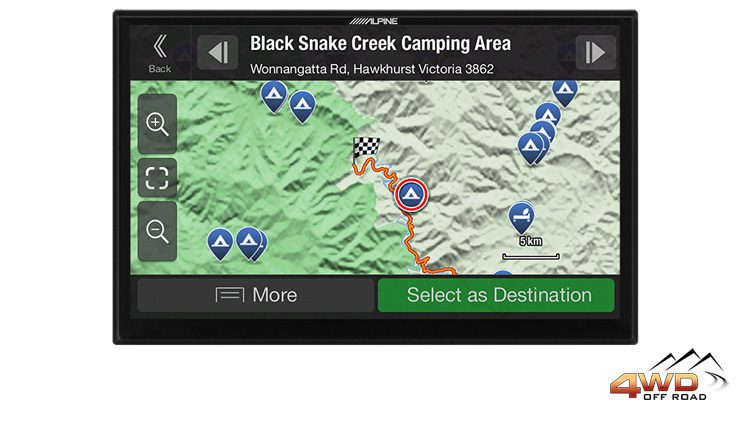 Smartphone Navigation
Apple CarPlay and Android Auto works seamlessly with the included GPS and Glonass antenna to provide an accurate navigation experience. With voice control you can set your destination or use the display to type in a location and begin driving. Plus, voice guidance gives you turn-by-turn instructions to keep you on your designated route.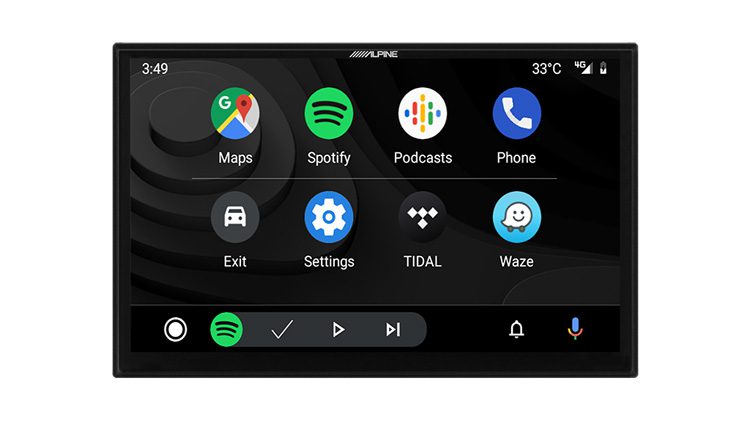 Android Auto
The convenience of Android Auto lets you bring the ever-expanding apps into the dash of your car. From either the display or voice command you can make calls, send and receive messages, play music apps or set a destination via Google Maps or Waze.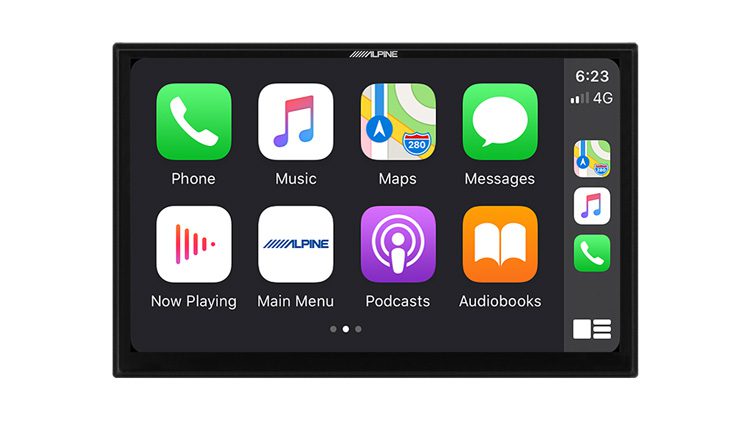 Apple CarPlay
Apple CarPlay brings your apps to life all through the display. Listen to your favourite music apps such as Spotify or Tidal, plus make calls, get directions with maps, receive messages and see your calendar all while using the display or voice control.
Audio Streaming Apps
Access the worlds music library with millions of tracks and episodes available on Spotify. When using Apple CarPlay or Android Auto with the Spotify app, you can play the latest songs from your favourite artists, charts and playlists. Plus, browse through the collections of friends, artists, celebrities and radio stations all from the comfort of the driver's seat.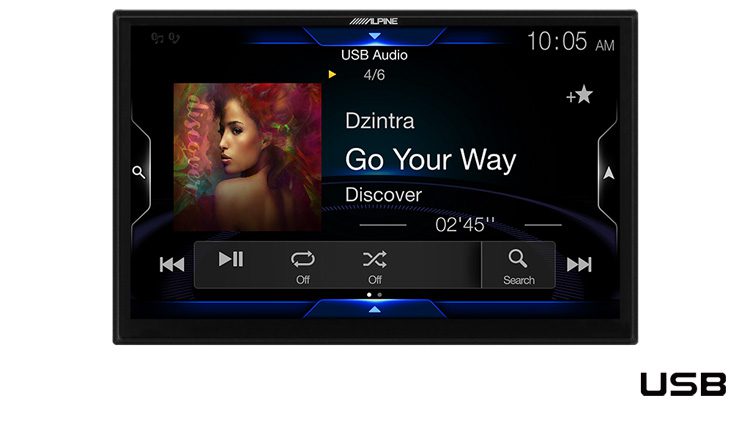 USB Audio and Video Playback
A multitude of source options are available through the USB input on the X902D-F, you can connect memory devices o playback audio and video files, plus music from compatible iPod's or iPhone's. High resolution music files such as FLAC  can be played back at 24Bit/96kHz or greater providing Hi-Res Audio capability. Furthermore, AVI, MKV and MP4 video files can be played up to HD 1080p with superb clarity providing the ultimate in-dash entertainment experience.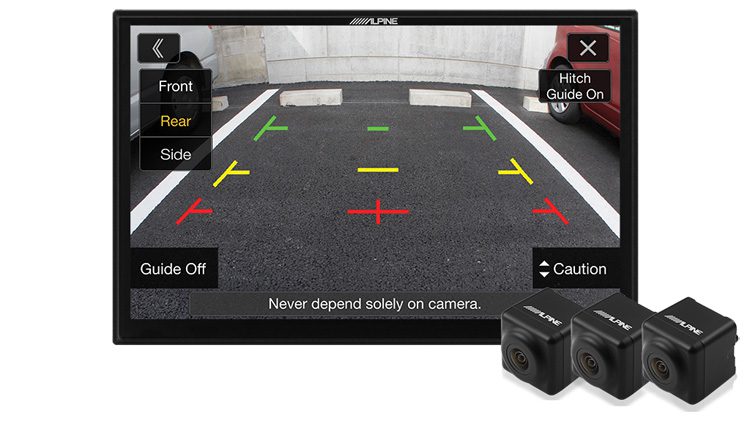 Direct Camera Port
Add multiple camera's to your vehicle via the direct camera port on the X902D-F. The optional KCX-C250MC enables up to three camera's to be added for a clear wide view of all obstacles when reversing and navigating bush trails.
Suitable for Toyota LandCruiser 200 Series
Alpine have specially designed an all-new fascia to facilitate a massive 9" display to fit seamlessly into the Toyota LandCruiser 200 Series. All the parts required for a perfect dash replacement are provided within the PFK9-LC16 including the fascia, mounting brackets, direct connection harness, factory camera retention and radio antenna connections. This perfect fit solution is compatible with the GXL and Altitude models from 2016 and onwards. An optional steering wheel control module is required to retain this feature on the Altitude model.
This Alpine Perfect Fit Solution has been made to suit the following vehicles:
Compatibility:
Model
Year
LandCruiser 200 Series
GXL & Altitude ONLY
2016>
* If your vehicle is equipped with steering wheel controls a 3rd party SWC interface will be required for this functionality
We strongly recommend this product is installed by a professional. Please contact us about organizing an installation!