Description
Alpine innovation continues with the unique design of the VE Series 2 Luxury dash kit. Paired with the Halo 9" high-definition touch-screen this solution directly fits into the factory location of a Omega, Berlina, Calais or Senator. Also accommodating the new HVAC LCD controls this total system provides a sleek and classy look.
Fully customisable HVAC Control
The very responsive 7″ diagonal LCD touch screen display has automatic climate detection, custom colours, start up screen customisation, vehicle build / health info and a dynamic sports display. Sports features include Speed (KM/H), RPM, Gear Status (AT only), Clutch Dial (MT only), Steering Angle, Acceleration (%), Brake (%), Lap Timer and Shift Light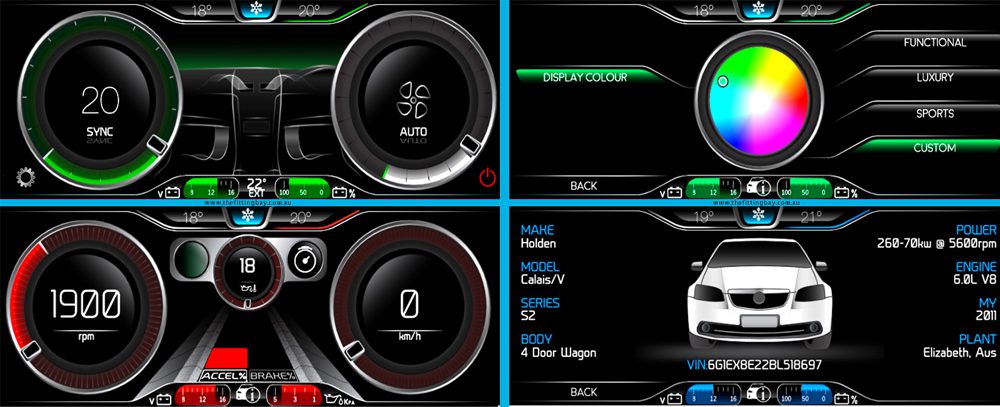 Adjustable Display Angle and Height
The INE-F409E provides flexibility when installing. The display can be angled from +45 degrees to -20 degrees and the height can be adjusted +/- 3cm. The display gets locked in delivering no movement when using the unit. You can also adjust the distance of the display to your dash with a 20mm range.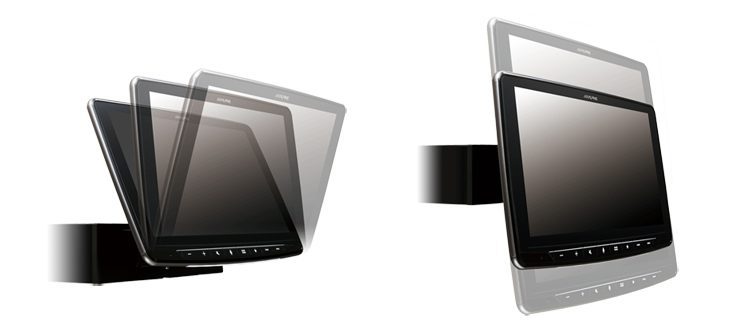 Premium Built-In Navigation
The superb Primo 3.0 navigation platform provides an exceptional map viewing experience with features such as 3D landmarks, 3D cityscapes and a state of the art Points of Interest database with caravan and camping sites. Plus, with 3-years of free map updates you can ensure that your navigation system is always up to date and ready to venture the latest roads.
POI, Speed Camera Alerts and Lane Guidance Assist
With features such as extensive Points of Interest and Lane Guidance you can enjoy convenience on the fly.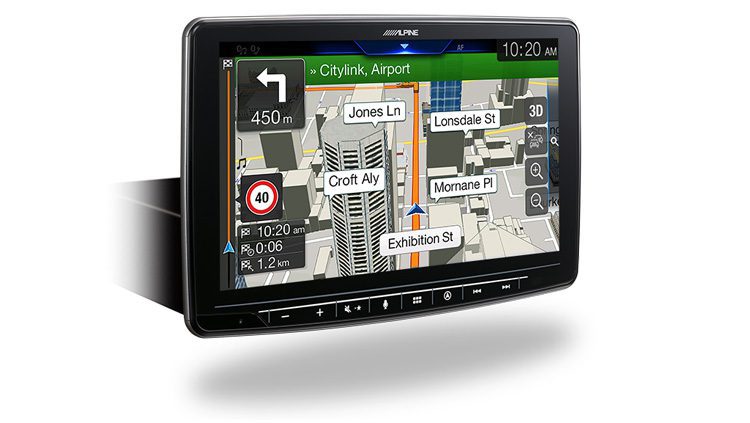 4WD Off Road Maps 
4WD Off Road Maps come standard with the INE-F409E including point-to-point off road navigation, intuitive turn-by-turn guidance and 3D terrain. While the one look display allows you to view audio and navigation simultaneously.
Caravan and Camping Sites
Explore the comprehensive caravan and campsite database, allowing you to navigate to your favourite camp ground or utilise the points of interest function to find a new one nearby.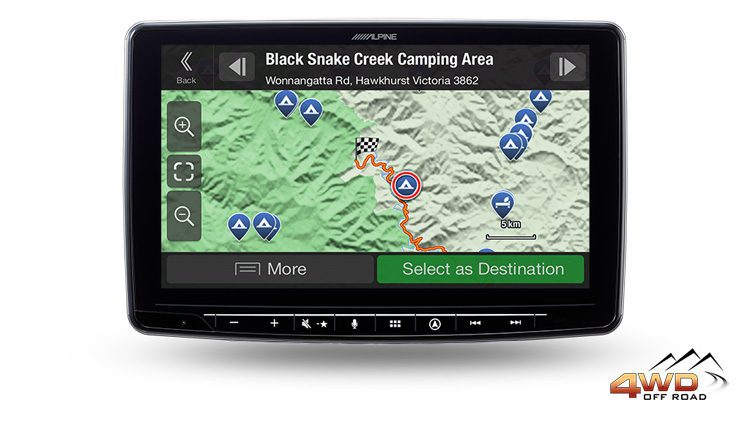 Apple CarPlay and Android Auto
Equipped with Apple CarPlay and Android Auto you have a multitude of smartphone options available you can get directions, make calls, send and receive messages and listen to music all in a way that allows you to maintain full focus on the road. Users can control elements of their smartphone through the 9″ capacitive display or activate Siri and Voice Recognition for minimised distraction.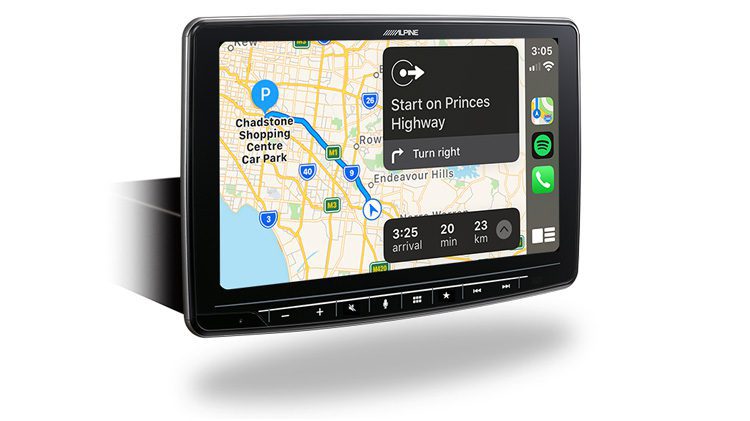 Digital Radio Stations
Enjoy all your favourite audio with a limitless amount of options such as Spotify, iHeart Radio, Podcasts and even DAB+ digital radio providing a wide range of digital only radio stations.
HDMI / USB Connectivity
A wide range of entertainment options are made possible through the INE-F409E with HDMI and USB connection allowing for high quality video and audio playback. What's more DVD and CD's can be played back in high resolution with the optional DVE-5300 optical drive.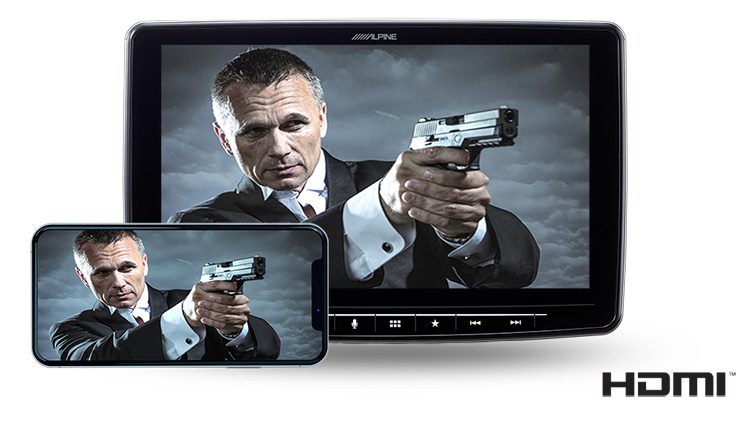 RCA Camera Connection 
The INE-F409E package works with a HCE-C1100D Direct rear camera.  It also has the ability to add an extra Alpine camera via RCA (with optional CAM-ALP-ADP). Plus, you can add up to 3 cameras with the optional KCX-C250MC featuring touch control.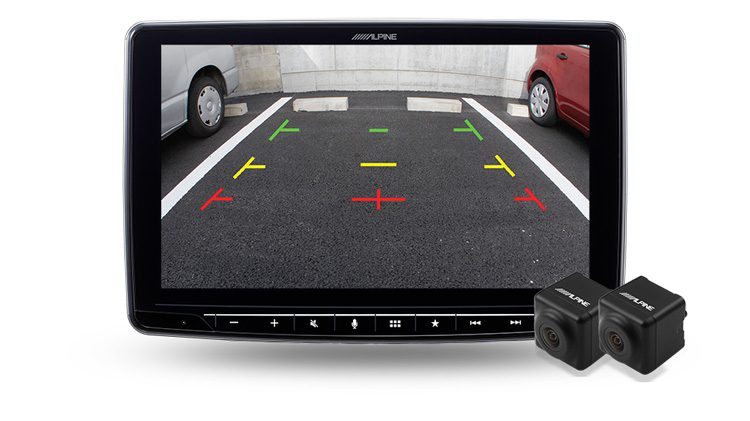 Screen Protector
The optional KTX-HF9 is designed to perfectly match the sleek lines and tapered edges of the Alpine Halo 9. The screen protector follows the delicate curves of the screen to ensure a seamless fit and improves visibility by reducing sunlight reflections and finger prints.