Description
The CELLINK-Neo 8+S is a premium quality dash camera battery pack for cars. Specially designed for use in BMW, Mercedes and European cars to prevent low voltage warnings, it is capable of powering a single channel dash camera for over 32 hours of constant recording. The CELLINK-Neo 8+S can simply be powered from the cigarette lighter socket or alternatively hardwired to the vehicle for faster charging. Compatible with BlackVue, Thinkware and other leading dash cam brands this battery pack expands their reliability and performance.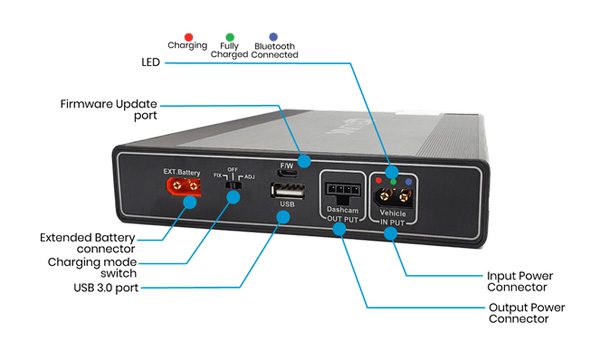 The system works by charging a high quality lithium-iron battery when your car is running. When your car is turned off, the charged battery is then used to provide continuous 12V power to your dash camera without the need to drain any power from your cars battery. This process is very effective in reducing the risk of battery discharge, low voltage warnings and flat batteries.
Because the CELLINK-Neo 8+S charges using your cars alternator only, it puts zero strain on your cars battery. Which means you will not be affecting the life or integrity of your cars battery or electronics.
The high quality lithium-iron phosphate battery means the system it can handle temperatures of up to 70'C degrees before the internal computer automatically shuts the system off safely. Multiple packs (up to a total of 5) can be added to expand the system for increase recording times.
The Neo Battery Manager app for iOS & Android is available free-of-charge, allowing the user to view important information such as the charge percentage, charging Voltage, and time remaining until full charge