Description
If looking for a discreet yet powerful auxiliary high beam driving light install for your Toyota Hilux (Rouge edition), then look no further than a pair of Triple-R ELITE high-performance spotlights from Lazer Lamps. These lights integrate perfectly into the factory grille by utilising a vehicle specific kit for vehicles year 2020+. This solution provides a fully road legal installation that will leave you finding excuses to go out at night!
The Lazer Lamps Toyota Hilux Rouge grille kit, designed for 2020+ vehicles, includes a pair of Triple-R 750 Elite High Performance LED driving lights, plus wiring kit, alongside 4x brackets precision-engineered to engage perfectly with the standard vehicle grille, with added strength and security provided by the supplied self-tapping (plastic) screws. Made from ASA material, known for its excellent strength and UV stability, the brackets are fully weather and chemical resistant to ensure your installation remains in great condition year after year. Lazer Grille Integration Kits are optimised for use with Triple-R 750 High Performance LED Spotlights.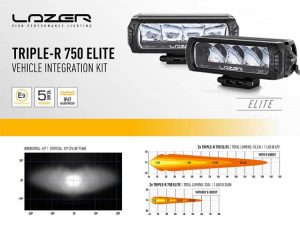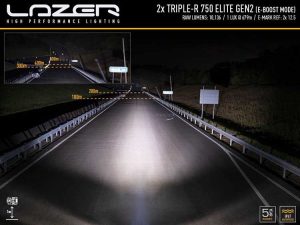 What's included:
– x2 Triple-R 750 ELITE GEN2 High Performance LED Spotlights
– x1 Grille Mounting Kit (comprising 4x Brackets and fasteners)
– x1 Two-Lamp Wiring Kit
– x1 Installation instructions
With no compromises in component parts or production techniques, as with all Lazer products, we have taken every step to maximise lighting performance, and build quality, to ensure your lighting installation remains in excellent condition for years to come, backed up by our comprehensive 5yr warranty.
Where the vehicle has Xenon or LED headlights as standard, it may not be possible to detect a 12V high beam signal. In these instances, it will be necessary to complete the electrical installation using a Lazer CAN Interface. You can also get a contactless reader to allow you to get CAN high beam data without splicing into wiring in the vehicle.