Description
For an OE quality, auxiliary spotlight installation, the Lazer Grille Integration Kits are bespoke mounting brackets which allow for quick and easy fitting of Lazer High Performance LED Spotlights within the front grille of the most popular road cars, pick-up trucks, and light commercial vehicles. Designed to blend seamlessly within the original styling of each vehicle, the resulting lighting setup remains fully robust and secure.
The Nissan Patrol Y62 kit, designed for series 4 (2018-2020) vehicles, features 4x brackets precision-engineered to engage perfectly with the standard centre grille on the vehicle, with added strength and security provided by the supplied self-tapping (plastic) screws. Specially manufactured from a carbon-fibre and nylon composite material (CF-PA12), material specially selected for the Y62 to withstand extremes of temperature, the brackets provide excellent strength and UV stability, to ensure your installation is fully weather and chemical resistant staying in great condition year after year.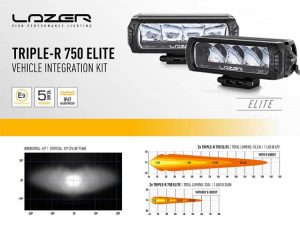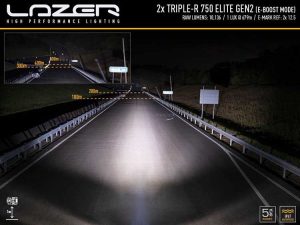 Lazer Grille Integration Kits are optimised for use with Triple-R 750 High Performance LED Spotlights.
Where the vehicle has Xenon or LED headlights as standard, it may not be possible to detect a 12V high beam signal. In these instances it will be necessary to complete the electrical installation using a CanM8 High Beam Interface.
What's included:
– x2 Triple-R 750 GEN2 Elite High Performance LED Spotlights
– x1 Mounting Kit (comprising 4x Brackets and fasteners)
– x1 Cutting Guide (comprising 4x Brackets)
– x1 Two-Lamp Wiring Kit
– x1 Installation instructions