Description
New for 2023, SENTINEL applies Lazer Lamps' superior product design and manufacturing capabilities to a round lamp design now available in 7-inch versions. The lights optimised for everyday road and off-road use, deliver remarkable high beam lighting performance, and product styling that exudes quality
At this Elite level 10,248 raw lumens are served up by 24 high power LEDs, with each product having the light output on the road or track ahead maximised through the adoption of class-leading electronics and optical design, alongside the product's CAE-optimised lamp housing.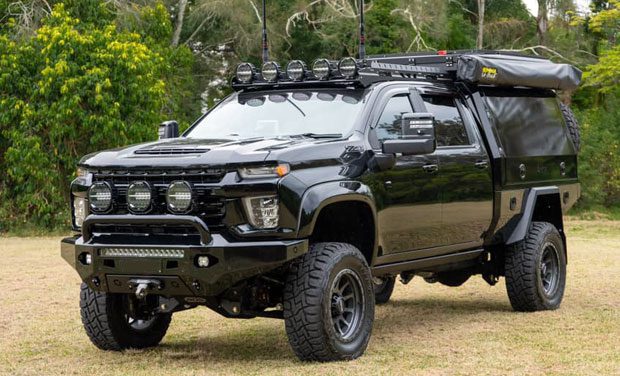 Boasting a true 'combo' beam pattern, the central rows of LEDs and optics deliver the long-range illumination, while the upper and lower sections have been meticulously designed and engineered to produce an enviable 65 degrees wide spread of light (Elite grade). The result, a perfectly balanced distribution of light, at a carefully selected 5000 kelvin colour temperature, to make night driving a safer and more enjoyable experience. Considering the lamps size and power rating (60W – Standard / 116W – Elite), these lamps outperform on every level, even against significantly larger, more powerful products.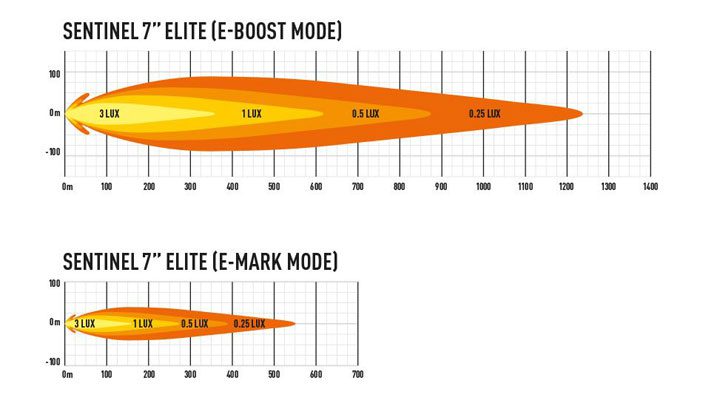 The stealth design of the Sentinel 7" lamp is achieved through the adoption of black printed circuit boards, and black bezel feature with intricate hexagonal design detail for a unique, contemporary appearance. Furthermore, the Elite version has the option to connect white or amber position/side light function, for an even more distinct look, with the white version approved to UNECE Regulation 149. The lamps are supplied with a 'slim' diecast aluminium mounting bracket, which like the lamps themselves has an automotive-grade pre-treatment before being powder coated satin black, for a product protected against aesthetic deterioration or corrosion.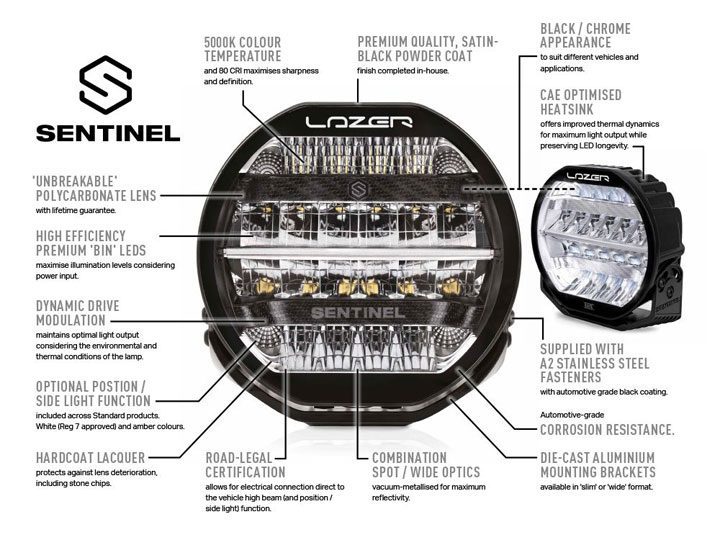 As with all Lazer products, the Sentinel lamps have been designed, engineered, and are manufactured in-house, in the UK. There is no compromise in regards component parts, or build processes to achieve a superior product, while simultaneously ensuring that more than ever, environmental stewardship and an ambitious carbon-reduction program have also featured heavily in the Sentinel products design and build.
What's included:
– x1 Sentinel 7" Elite LED Lamp
– x1 'Slim' Mount Kit (1141-0S7-K)
– x1 Black Lens Cover (LC-0S7-BLK)
– x1 Installation Instructions