Description
The Zapco ADSP-Z8 IV-6AT 8 Channel DSP amplifier has the DSP-Z8 IV AT DSP combined with an on-board 6-Channel full range Class D Amplifier. As good looking as this product is, it's not just a pretty face. This amplifier give you 80 Watts per channel @ 4 Ohms and 120 Watts per channel @ 2 Ohms.
Zapco was the very first company to give you a full function DSP on-board with in a car audio amplifier. That was in 2004, and it was the Class AB, Reference DC (Digital Control) Series. Those amplifiers and were immediately lauded for they're Zapco sound quality and the amazing versatility provided by the digital processor. But as AB amplifiers they were also quite large at a time when cars were becoming smaller and lighter. With the advances in Class D technology over the last 15 years we have been able to get that same Zapco sound quality into a smaller and more powerful package.
The new ADSP-Z8 IV-6AT DSP amplifier has now 2 RCA outputs to feed the mono amp. The newly enhanced GUI adds an Advanced menu, a Mixing Set and an AutoTune function, when you add the optional calibrated tuning microphone (M-AT1). Drop-down menus also let you name each output channel to match your system setup.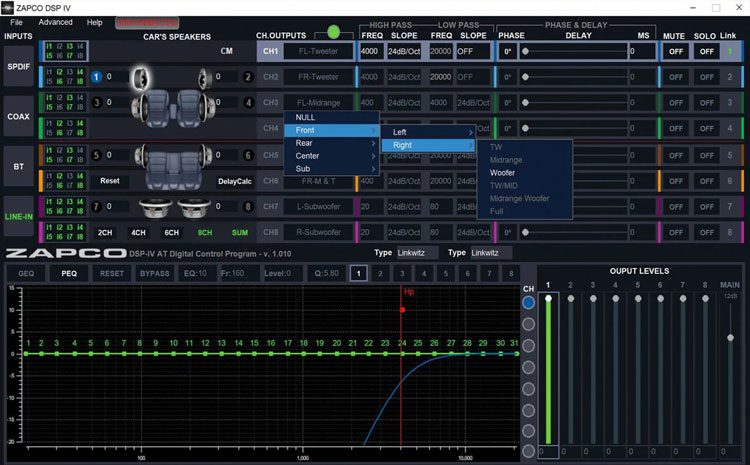 The new DSP-Z8 IV AT gives you the more options for input selection. You can have up to 8 channels of input that you can set them up instantly simply choosing 2-Ch, 4-Ch, 6-Ch, or 8-Ch on the front page inputs section. If you need to sum channels of a factory stereo to get a full range input just click SUM and the system does it all for you. But, if your system is more complicated than standard, you also have the option to enter the Advanced menu and use the Mixing Set to manually give each channel exactly the amount of input from each input channel that will work best for your particular audio setup.
A Coaxial digital input and Optical digital and Bluetooth streaming input completes your musical expansion.
From simple to advanced, the Zapco ADSP-Z8 IV-6AT has you covered. 
Specifications
DSP Processor: Cirrus Logic CS47048
Power: 150 MHz/32 bit/192 KHz
8-Channels
ADC: Cirrus Logic CS47048 32 bit/192 KHz
ADC Dynamic Range/THD: 108 dB/-98 dB
DAC: Cirrus Logic CS8422 24 bit/192 KHz
DAC Dynamic Range/THD: 140 dB/-120 dB
Low level (Pre)/Sensitivity: 1-5 VRMS
High Level (Spk In)/Sens.: 2-20 V
Optical Digital IN: 24 bit-192 KHz
Coaxial Digital IN: 24 bit-192 KHz
Freq. Response (-3dB): 10 Hz – 22.5 KHz
S/N Ratio only DSP Digital Input: 110 dBA
S/N Ratio only DSP Analog Input: 106 dBA
S/N Ratio Amp + DSP at max. power: 95 dBA
THD+N only DSP Digital Input: 0,002 %
THD+N only DSP Analog Input: 0,005 %
THD+N Amplif. + DSP Analog Input:  0,07 %
Crosstalk at 1 Khz only DSP: 90 dB
Crosstalk Amplifier + DSP: 45 dB
Amp Power @ 4Ω: 6 x 80 watts
Amp Power @ 2Ω: 6 x 120 watts
Amp Power @ 4Ω Bridged: 3 x 240 watts
F/R EQ: 1-6 ch Gr. & Par./31 poles
Effect EQ: 7-8 ch Gr. & Par./11 poles
Mute/Solo: Yes, each channel
Time Align. (Range/Steps): 0/15 ms / 0.02 ms
Max Delay (Cm/Steps): 515 cm / 0.68 cm
Polarity: 0/180°

Remote Control included

HD-BT Streaming (with optical HD-BT)

PC/

Display Connection: USB/6-pin Mini DIN
Unit Dimensions: 213(W) x 222(L) x 50(H)