Description
The Aerpro AMHXD3 Hema Maps Navigation Module seamlessly integrates On-Road and Off-Road Navigation onto the head unit display in your vehicle. Optimised for Aerpro Multimedia Receivers and compatible with various aftermarket head units*, the AMHXD3 simply connects via the Apple CarPlay USB port. Experience turn by turn street navigation provided by HERE Technologies and Hema Maps' award winning off road navigation and track information. Hema Maps provides the most comprehensive on and off-road content including over 100,000 Hema-X moderated listings with over 40,000 Hema Maps verified points of interests (POI's) including campsites, caravan parks and other touring points of interest.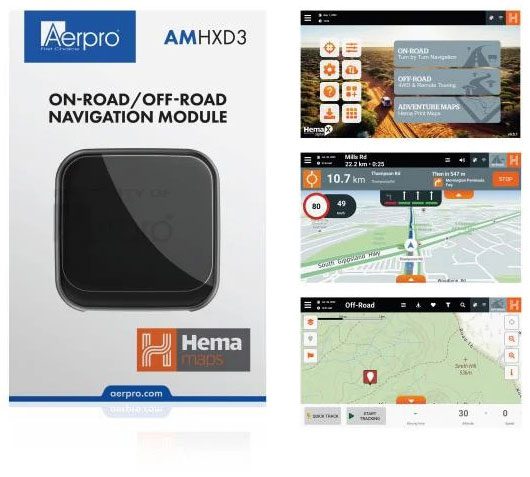 OFF-ROAD NAVIGATION
Purpose built off-road navigation tool powered by Hema Maps
Navigate remote areas and 4WD tracks with Hema Explorer Digital Map
Experience high fidelity, seamless multi-scale, Australian-wide topographic mapping
Multiple Map Layers available plus track / waypoint overlay
Access over 100,000 moderated listings plus over 40,000 Hema Maps verified POI's
Track recording and online trip planning can be synced via the Hema Cloud
ON-ROAD NAVIGATION
Dedicated on-road turn by turn navigation powered by HERE Technologies
Interactive mapping with detailed voice and visual guidance, point to point routing
Navigation warnings including speed limits, speed alerts and route guidance
Comprehensive Australia wide road network with highly accurate data and traffic alerts (when connected) with Hema Maps POIs overlayed
On-road map updates for the HERE turn by turn navigation available to download regularly
Navigate from your turn by turn navigation running and toggle to off-road mode with one click
---
Important Information:
(*)Head Unit Compatibility:

Aftermarket head unit must be Apple CarPlay compatible.
The software has been optimised for Aerpro AM9X and AM10X Multimedia Receivers.

Additional Information:

Hema Maps Adventure Maps are not included, they are available as an in-app purchase.
The AMHXD3 includes 3 years of basic Hema Maps Cloud account access which provides you access to map downloads and data updates. Please note data usage over and above the included amount in your Basic Subscription may incur additional charges or restrict access.

Copyright and Trademarks:

Hema Maps 2022. Copyright.
Hema Maps is a trademark of Hema Maps PTY LTD.
HERE is a trademark of Here Technologies LLC.