Description
Increase the duration of parking surveillance mode and put less strain on your vehicle battery by adding the Thinkware iVolt Mini External Battery Pack (IVOLTMN) to your dash cam installation. iVolt Mini utilises a LiFePo4 (Lithium iron phosphate) battery which is safe for in-vehicle use as it is designed to withhold extreme temperatures. It features a super-fast charge rate of just 45 minutes while driving and simply hardwires between the dash cam and vehicle fuse box. When you open your iVolt Mini package, you will be provided with 2 Cables and fuse taps, in addition you will also need a standard Thinkware Hardwiring Cable HWC (sold separately).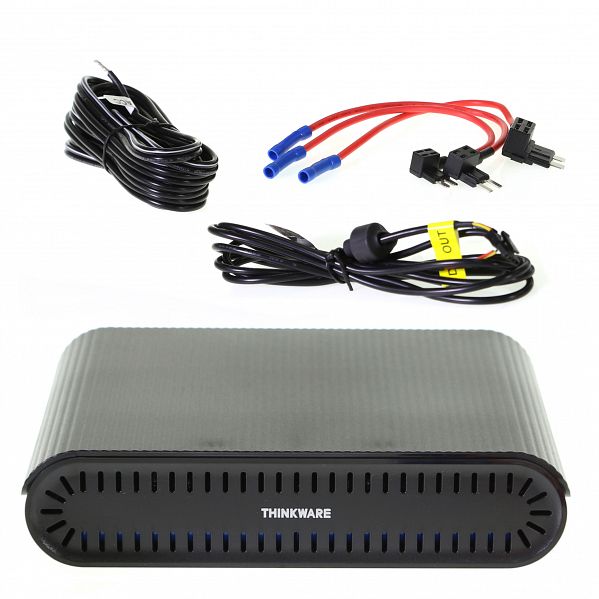 Extended Parking Mode
The iVolt Mini allows a Thinkware 1-Channel Dash Cam to run for 20 hours, or if you have a 2-Channel Dash Cam, 16 hours in Parking Mode before needing to recharge the battery pack.
Safe for Luxury Vehicles
If you own a Luxury Vehicle such as a BMW, Audi or Mercedes, battery drainage not only means replacing the vehicles battery but it can also require the dealership to reset the vehicles electronics, which can turn into an extremely expensive fix. By using the iVolt Mini Battery Pack, you will still be able to use our Advanced Parking Mode risk-free.
Avoid Wear and Tear
With a Hardwired Dash Cam, the constant discharge on the battery over a long period of time can cause wear and tear. The iVolt Mini Battery Pack only draws power to charge when you are driving the vehicle, which prevents damage to the vehicles battery over time. With the ignition off, the Dash Cam relies solely on the Battery Pack for power, eliminating the need to draw power from the vehicles battery completely.
Do I Need a Battery Pack?
Thinkware Dash Cams offer a few different methods in which the device is powered. All Thinkware Dash Cams come standard with a built-in voltmeter and battery protection settings to ensure you will not return to your vehicle with a dead battery. These Voltage Settings can be utilised with the Hardwiring Kit to protect your battery when using Parking Mode. However, if you wish to record an extended amount of Parking Footage, or if you have a Luxury Vehicle/Small Vehicle Battery the Thinkware iVolt Mini Battery Pack may be the right choice for you.