Description
Power Magic Ultra Battery (B-130X) is a high-capacity battery of Lithium Iron Phosphate cells (LiFePO4) providing true power isolation for a dash camera in parking mode.
Fast-Charging: The Power Magic Ultra Battery reaches a full charge in a record 50 minutes when hardwired (90 minutes if connected to the cigarette lighter socket).
Long-lasting: Parking Mode can last more than 30 hours with a single-channel BlackVue DR900X Plus (19 hours with the dual-channel version).
Connected: Wirelessly connect to the Power Magic Ultra Battery with the BlackVue App.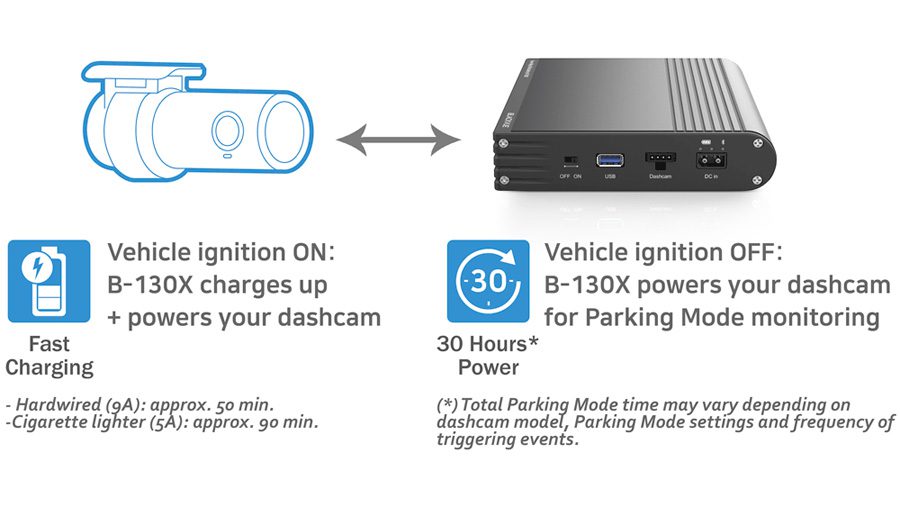 Power Magic Ultra Battery supports two charging modes.
Simple installation:
Just plug the battery into the cigarette lighter socket of your vehicle.
Charging current: 5A – Charging time: approx. 90 minutes.
Hardwired installation:
For fastest charging speed, connect the battery to the fuse panel.
Charging current: 9A – Charging time: approx. 50 minutes.
The high quality 7,500mAh lithium-iron phosphate battery means the system it can handle temperatures of up to 70'C degrees before the internal computer automatically shuts the system off safely. 12-24V compatible and multiple packs can be added to expand the system for increase recording times.
Check battery status with the free BlackVue Battery Manager app:
The Power Magic Ultra Battery can communicate with the BlackVue Battery Manager app via Bluetooth.
Check easily information like charge percentage, charging Voltage, and time remaining until full charge.